Pandemic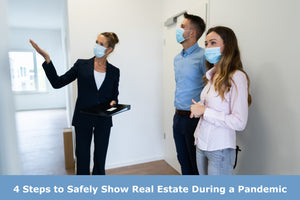 4 Steps to Safely Show Real Estate During a Pandemic
The COVID-19 pandemic has changed the way real estate showings are managed. In some states, open houses are prohibited unless a property is unoccupied or vacant. Masks and social distancing are mandatory for prospective buyers and their agents. In other states, rules are looser for home tours and showings.
When you're allowed to conduct home showings and tours, take extra steps to protect your clients and yourself from coronavirus. Here are four steps to conduct the safest real estate showings while the pandemic is active.
Develop and Circulate Your Safety Plans
The National Association of Realtors and other property-related organizations have developed detailed guidelines to help agents and sellers create safe showing protocols. Read through professional materials on COVID-19 precautions to create individualized safety plans for your showings.