4 Essential Tips for Throwing Amazing, Safe Summer Celebrations
4 Essential Tips for Throwing Amazing, Safe Summer Celebrations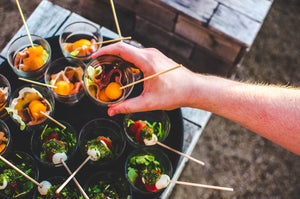 Ready to take your party to the next level? For props, artificial plants, accessories and much more, connect with Home Staging Warehouse!
Are you looking to throw some awesome parties this summer? Setting the tone begins with a great atmosphere, so think about how you're going to address both how the environment looks and how it feels. Hosting a party can be a lot of fun, as long as everyone stays out of harm's way. To prevent accidents and health hazards from ruining your celebrations, and to create an environment that is truly festive, try following these tips for planning a safe, fun summer gathering.
Keep Pests Away the Natural Way  
Nothing spoils a summer cookout or party like flies, mosquitos and other bugs in your yard. Keep these unwelcome guests out of your home without posing a risk to your human guests by using safe, natural repellants. You can mix up your own insecticides at home or find natural pesticides that will keep bugs at bay without causing problems for animals and people. If flies are a concern, The Kitchn notes simple options such as turning on a fan can keep them from flying around your party.
When the party's over, make sure you dump out any standing water in bowls, cans and cups. Even a small amount of leftover liquid can cause mosquitoes to breed and attract other pests to your yard.
Plan a Healthy Summer Meal  

Many summer parties include foods that aren't really healthy. Give your guests a break from greasy meats and processed party foods and plan a delicious, healthy meal instead. You can visit local farmers markets to find plenty of options to build your clean-eating meal. Farmers markets are filled with local produce, fresh baked goods and unique options for your table. Guests will love the break from traditional, heavy summer fare and their stomachs will be happier as well. Don't feel up to cooking a big meal? Consider offering smaller snacks or have a local restaurant cater your party instead.
Practice Safety Around Pools   

A pool party is such a good way to cool off with friends on a hot summer day. Just make sure that, as Clear Comfort suggests, all of your guests are practicing the rules of pool party safety. Don't allow small children to swim without adult supervision and designate someone to keep an eye on swimmers at all times. Make sure a flotation device is kept nearby, in case someone needs it. Finally, post a set of pool rules where guests can see them to keep everyone safe during the party. You can include rules such as "no diving" or "no running around pool" to help your guests celebrate safely.

Fun in the Sun — and Inside, Too!   


Summer is a great time to throw parties but your guests will want to stay cool on hot summer days. If you're hosting a party outside, provide some shaded areas where people can escape the sun. Some inexpensive umbrellas or sunshades can be a great way to give guests a little heat relief. Pick up some cute paper fans as party favors for a cheap air-conditioning option for your guests or use other ways to help guests keep cool. If you serve drinks, keep plenty of cool water available so that your friends don't get dehydrated during your celebrations.
Always have an option for moving the party inside in case the weather gets too hot or a sudden summer storm pops up. If you have a spare room, spruce it up by adding some fun lighting, board games, trendy lifelike succulents, and other décor. You can even get your walls in on the act. Peel-and-stick wallpaper comes in many modern styles and colors, and they're easy to remove once the party's over. If you want to keep the wallpaper around for a while, you can go for a more durable option, which provides more protection against water, mold, and mildew.
Throwing a party is a great way to relax and have fun with friends this summer! Set the tone with Just make sure your guests stay safe, happy and healthy while they celebrate. With a little planning you can host a party everyone is sure to remember! 

Photo Credit: Unsplash