Can Your House Be Stolen on Paper? Yes, it can.
Can Your House Be Stolen on Paper? Yes, it can.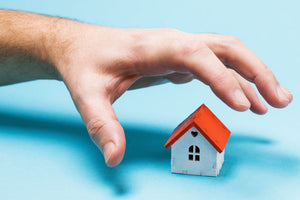 Can Your House Be Stolen on Paper? Yes, it can! Home Title Fraud: What It Is, How It Works, What to Look for and How to Protect Yourself
You may have heard the late-night commercials warning you that your home could be stolen out from under you, that a thief could lay claim to your home's title and leave you bankrupt and in foreclosure. You may have even considered signing up for a protection service that monitors your deed and promises protection from this insidious form of identity theft. But is there any truth to all of this? Can thieves really sign on to your title and sell your home while you remain blissfully unaware?
The bad news is that home title fraud, also known as deed theft, is indeed real, and it is a growing threat to homeowners and to the owners of second homes and investment properties. If you own real estate, you do need to be aware of the dangers, and you do need to take steps to protect yourself.
The good news is that protecting yourself from home title fraud is not that difficult, and you do not necessarily need to hire someone to do it for you. If you prefer a totally hands-off approach and automatic protection, forking over $15 or $20 a month might be a good investment, but if you are willing to do a bit of sleuthing you can protect your home for free.
How Does Home Title Fraud Work?
Home title fraud or deed theft begins much the same way as other forms of identity theft. It starts when the criminal in question gleans personal information, generally gathered online. Armed with this personal information, the thief adopts the identity of the targeted homeowner and then forges signatures on legal documents to make it look like the property has been sold.
Once the thief has control of the title and the legal ownership of the property, they may sell the home or borrow against it. When the bill comes due and the payments are not made, foreclosure typically follows, leaving the actual homeowner on the hook, and in extreme cases out in the cold.
Watch Out for the Warning Signs
While some people make it seem like deed theft is a totally silent crime, that is not usually the case. There are generally warning signs to watch out for. If you are attuned to these warning signs, you could stop the title theft in its tracks, before the loans start and foreclosure proceedings begin.
It is important to note that the perpetrators of these kinds of schemes often target second homes, vacation homes, and investment properties instead of primary residences. While primary residences can be stolen in this manner, they are not typically the target of deed thieves.
The idea is that homeowners may not pay close attention to their vacation properties during the off-season, and that makes it easy for the warning signs to be ignored. Often the first warning sign is that the annual property tax bill does not come as scheduled, and while you may think that is good news it is something worth investigating.
You may also notice that you are no longer receiving water bills or normal utility payments on a summer home or investment property. Conversely, you may notice a sudden spike in utility bills from what should be a vacant home, a sign that someone has unwittingly purchased the property and moved in.
How to Protect Yourself
If you want to safeguard your home from the danger of title fraud, you could pay someone to keep an eye on your deed, or you could do the legwork yourself. Protecting your home is relatively easy; it just takes vigilance and a bit of discipline.
You can see if your home has already been targeted by a home title thief. To do that, simply go to the website maintained by the register of deeds in your county. From there you can look up your own deed, checking for documents that were not prepared or authorized by yourself or your attorney.
While you are on the website, see if your county provides a notification service for changes to your property status or alterations in any documents associated with your home. This essentially puts your deed theft protection on automatically, so you can simply watch your email or phone for notifications.
What to Do If You Are Victimized
Hopefully, you will never receive such a notification from your county, and hopefully, your home will never be targeted in this way. Even so, it is important to know what to do if you do become a victim of this insidious and potentially devastating crime.
If you think you have been victimized by home title theft, you should notify the register of deeds for your county immediately. You should also notify the local police department; home title theft is a serious crime and it is taken very seriously by the authorities.
In addition to these notifications, you should also request a certified copy of the fraudulent documents that were used to perpetrate the fraud. You will also want to contact a qualified real estate attorney; recovering from deed theft is not a DIY proposition.
Hopefully, you will never have your home targeted by criminals of any kind. If all goes well, your home will never be burglarized, and deed thieves will never steal your home out from under you. But knowing how this growing crime works, what to look for, and how to protect yourself is the best way to be prepared, and the more you know the better off you will be.