10 Steps to a Professionally Staged Kitchen
10 Steps to a Professionally Staged Kitchen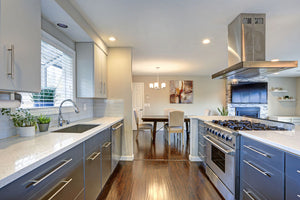 The kitchen is one of the first things home buyers look at, and if they do not like what they see they may never go beyond that room. If you have seen plenty of people at your open houses but still no buyers, it may be time to some professional staging.
You do not necessarily have to stage every part of your home, and if cash is tight full professional staging may not be possible. But focusing your staging efforts on the kitchen just might turn the tide, and here are 10 steps for kitchen staging success.
Start with a deep cleaning. A thorough cleaning is a vital first step for your kitchen staging efforts, so grab your favorite products and start scrubbing. You can have the kitchen professional cleaned if you like, or you can use your own elbow grease and save some cash.
Send odors packing. Deep-set odors can linger in the kitchen, and no amount of candles or fresh-baked cookies will cover them up. Thorough deodorizing is an essential part of kitchen staging, so let your nose guide you.
Clear off your countertops. Overcrowded countertops can be a real turnoff. Not only do all those appliances contribute to clutter, but they also hide the beautiful countertops you should be showing off.

Organize your cupboards. You can be sure buyers will look in your cabinets, so make sure they will like what they see. Organized cabinets will look better, and roomier, so get your pantry in order before the would-be buyers start streaming in.
Give the room a fresh coat of paint. If you have the time, a fresh coat of paint will make your kitchen look even better, so grab your brushes and rollers and pick a beautiful neutral color.
Break out the fancy bottles. Ivory liquid may be fine for everyday, but successful staging demands a bit more. It may seem silly, but setting out fancy soaps and stylish bottles is an integral part of successful kitchen staging.

Buff the kitchen faucets to a sparkling shine. Whether your faucets are stainless steel, copper or just plain metal, they should be shining when the open house begins. Polishing the faucets is a small touch, but it is also an important one.
Set the scene with a variety of cookbooks. Even if you do not normally use them, set your cookbooks on a shelf and show them off. Just seeing those cookbooks will help home chefs see themselves in your kitchen.
Accessorize the room. From the tea towels to the tea kettle, everything on your stovetop should match. A little accessorizing can go a long way, and this is a chance to show off your good taste.

Now that the kitchen has been staged successfully and the buyers are on their way, top things off with a fresh bowl of fruit. Nothing says home like an overflowing bowl of oranges, grapes and red shiny apples. 
The kitchen is one of the most important rooms in your home, and you can be sure that buyers feel the same way. If you want to sell your home fast, staging is a great place to start. The 10 steps outlined above will help you stage your home like a pro, all without the cost of professional staging.