4 Simple Home Staging Hacks for Busy Families
4 Simple Home Staging Hacks for Busy Families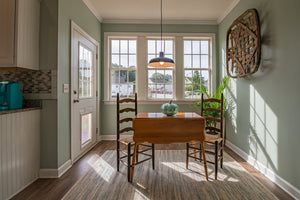 When your schedule is already filled with playdates, appointments and work meetings, you barely have time to think about staging your home. But if your home is on the market, it needs to be clean, decluttered and staged perfectly if you hope to sell it quickly. So how can busy families balance all this prepwork with an already packed schedule? Luckily, Home Staging Warehouse is here with tips on how to do just that.
To Maintain Your Sanity, Hire a Maid 
Before you read through some of the DIY steps you can take to keep your home show-ready, you should consider one super helpful step: hiring professional cleaners. That means you won't be stressed if your kid makes a mess while your home is on the market, because you will always have someone to help clean it up. Still think that hiring professional cleaners isn't worth the extra expense? Aside from saving you time and stress, professional house cleaners will also be sure to clean the spots you may miss if you are in a rush. Since your house needs to be spotless in order to sell as quickly as possible, investing in a maid could just help you stay sane while you sell your home.
Put Toys, Pet Items and Personal Effects Away
If you have kids and pets, it makes sense that their things are scattered around. Before buyers view your home, you should do your best to have those items tucked safely out of sight. One great way to reduce paper clutter is by digitizing documents using a merger tool that allows you to combine PDFs into one file. And not for nothing, that'll make things easier on you, as well!
Aside from making your home look more cluttered, some buyers are actually turned off by signs of pets and items that are too reflective of your life in the home, such as toys and photographs. Unless your realtor tells you to leave those personal items out, know that they can be a distraction for someone trying to imagine their own family living in your house. That's a crucial element for enticing offers, so really try to focus on making your home appealing to buyers rather than a reflection of your personal style.
Make Tidiness a Daily Habit for Every Family Member
Proper staging and professional cleaning can help stressed-out parents keep their homes ready to sell. But if your family will be living in the home while it is listed, you each need to do your part to maintain its cleanliness. To prevent yourself from panicking when your realtor calls to schedule a showing, use these tidying habits to keep your home looking and smelling fresh daily. Put dishes and dirty clothes where they belong as soon as you are done with them to prevent clutter and odors from filling your home. Your kids should be helping with chores too, which will make it easier to keep their rooms clean enough to impress potential buyers. You can use a chore chart to keep kids on track and help them get into the habit of cleaning.
Have a Plan for Your Family for Last-Minute Showings
Getting clutter and dirt cleared out will make your home much more attractive to potential buyers. But during showings and open houses, you need to make sure your family is cleared out of your house as well. If your realtor schedules appointments or open houses over the weekend, think about planning a family getaway. This way, you are all out of the house and having fun rather than stressing about how the open house is going. Since some buyers may want to visit during the week while you are at work and the kids are at school, it's wise to have a plan for pets as well. Think about having cats stay with friends during the day, and have a dog walker on speed dial to keep things stress-free.
Getting your home ready to sell is already stressful enough. It can be even more hectic for busy families, which is what makes our easy-to-implement hacks so valuable!
Home Staging Warehouse is a collaboration between several manufacturers that love home staging and decor.  Our products ship from multiple warehouses across the United States. If you have questions about our organization, or if you have a valuable product that must be added to our inventory, contact us today!
Photo Credit: Pexels