First Impressions Count: 7 Tips for Effective Entryway Staging
First Impressions Count: 7 Tips for Effective Entryway Staging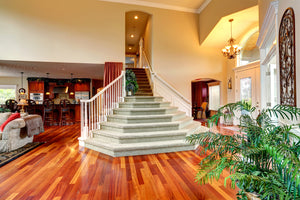 When welcoming viewers into your home, making an immediate good impression is vital if you want to encourage a sale. Staging your entryway is hugely important for this, and here are seven tips on how to do it effectively.
 1) From the Outside
 Your viewers' impressions of your home will begin before they've even entered. If your exterior door is looking a little old and weathered, a lick of paint or a thorough clean will make a huge difference. Also, clean, polish, or replace the house numbers and other hardware to make sure they're fresh and sparkling.
Make sure the doorbell works, and that the door opens smoothly without creaks or stiffness. For a finishing touch, add a clean, friendly doormat to present a welcoming image from the start.
2) Declutter and Organize
Decluttering is an important part of staging throughout your home, but it's essential in an entryway. Any feelings of being cramped or crowded will set a bad tone from the beginning.
Use umbrella stands, shoe racks, key hangers, and so on to organize your entryway's contents. If an item can't be tidied away nicely, then remove it. There should be nothing left lying around on tables, shelves, or the floor.
3) Depersonalize
Also, remove all family photographs and other highly personal items. A viewer will already be feeling slightly on edge as they enter, and a sense that they're encroaching on a private space will only make things worse.
4) Remove Sensitive Items
Similarly, remove any items which could conceivably offend, particularly religious and political pictures or mementos. If someone has differing views, it sets up an immediate feeling of confrontation.
Be very thorough about this. Even something as minor as a leaflet or marked envelope on a side table can send strong subliminal feelings, so make every effort to create a neutral but welcoming atmosphere.
5) Cleanliness is Everything
If you have carpets or rugs, have them steam cleaned to make them look and smell fresh and new. If you have wooden floors, consider a polish or a fresh coat of varnish.
Clean every surface and dust every corner. You want your entryway to look as well kept as possible, with no signs of dirt, wear, or tear.
6) Connecting Doors
Make sure all connecting doors to other rooms are open, to maximize the sense of space. This is especially true for smaller entryways. However, the exception is doors that open inward to the entryway and so take up room: leave these shut or slightly ajar.
7) Let in the Light
And lastly, make sure you turn on all lighting before the viewer arrives, both in the entryway and connecting rooms. Stepping into a stranger's gloomy home is enough to make anyone nervous, so make the experience as light and easy as possible.
If your entryway impresses your viewers, the rest of your home can almost sell itself. On the other hand, if the first impression is a bad one, a viewer will pick up on every other negative they see during their tour, and your chances of a sale are greatly reduced.
Don't make staging your entryway an afterthought, or your efforts around the rest of your home will be wasted.