Great Bathrooms Sell Homes: 10 Staging Tips for a Speedier Sale
Great Bathrooms Sell Homes: 10 Staging Tips for a Speedier Sale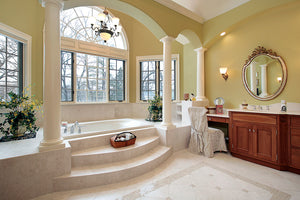 If you want to sell your home quickly and for top dollar, you need to give buyers what they crave. Increasingly, those buyers are looking for killer bathrooms, ones that combine practical needs with luxury accouterments.
The bathroom is arguably the most important room in the home from a real estate perspective, so putting it in its best light is essential for a fast sale. Whether your bathroom is newly renovated or as old as your home, the right staging can make a world of difference. Here are 10 bathroom staging tips that will have your bathroom looking better than ever.
Start with a fresh coat of paint. Nothing perks up an old bathroom like a new coat of paint. You will be surprised at the difference this simple upgrade can make - and so will potential buyers.
Add some upbeat artwork. The right artwork can add beauty and drama to your bathroom walls and perk up an otherwise generic space.
Show off your storage. Buyers love organized bathrooms, so put your storage space in the best possible light. Arranging your bathroom essentials in an attractive way will demonstrate how much storage buyers will be getting.
Get out your caulking gun. Resealing the bathtub and fixing damaged sections of caulking will make your bathroom look better - and give would-be buyers peace of mind.
Give the room a thorough cleaning. A dirty bathroom is not something buyers want to see, so scrub like the sale depends on it. Remove stains, polish the bathtub until it sparkles and clean the shower door or curtain.
Remove personal items. You may love your family photographs and personal items, but you want buyers to picture themselves in your space. Depersonalizing the bathroom is an essential part of successful staging.
Spruce up your cabinets. You do not have to spend a fortune on new cabinets, but giving your old ones a facelift could speed the sale and boost your profit margin. You will be surprised at the difference new cabinet hardware and a new coat of stain can make.
Replace your old faucets. Outdated faucets are a real turn-off for buyers, so replace them before you hold your first open house. This simple upgrade can transform the look of your bathroom - and wow potential buyers.
Show off your best linens. You will soon be welcoming guests to your home, so impress them with your best towels and linens. Grab your fluffiest towels and make the first impression a great one.
Add some fresh flowers. Fresh flowers will give your bathroom a pleasant aroma and beautify your carefully staged space even more. Whether you grow your own or stop by the florist, this finishing touch will leave your bathroom looking better than ever.
Great bathrooms sell homes, and the right staging can make a world of difference. Whether you home is new to the market or not, the 10 bathroom staging tips listed above could speed the sale and boost the selling price.