How to Renovate Your Home on a Budget
How to Renovate Your Home on a Budget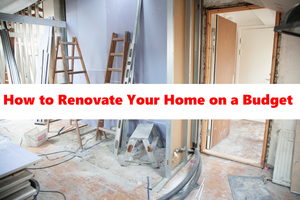 If you're considering renovating your home, there are a few things you need to take into account before starting the project. First and foremost, you need to create a budget and timeline, make sure you communicate your ideas clearly to your contractors, and finally, get a home warranty for when the renovation is completed. Keep reading for more tips, courtesy of Home Staging Warehouse, on renovating your home on a budget!
Home Renovation Types
There are two main types of home renovations: interior and exterior. Interior renovations involve anything from painting walls and ceilings to installing new flooring and cabinets. Exterior renovations include things like adding a new deck or porch, repairing gutters and siding, and repaving the driveway. No matter which type of renovation you're planning on undertaking, it's important to have realistic expectations about the scope of the project as well as your budget.
Finding Trusted Contractors
One of the most important steps in any renovation project is finding trusted contractors who can do quality work within your budget. The best way to find good contractors is through word-of-mouth; ask friends or family members if they know anyone who does quality work at a reasonable price.
Communicating Your Ideas Clearly
Once you've found a contractor (or contractors) that you trust, it's time to start communicating your ideas for the project. This step is crucial; if your contractor doesn't understand what you want, then chances are the final result won't be what you had in mind either! Be as specific as possible when explaining what you want to be done; provide photos or sketches if necessary.
Making a Timeline and Schedule
Another important step in any renovation project is creating a timeline and schedule for the work that needs to be done. This will help ensure that the project stays on track and that any disruptions to your daily life are kept to a minimum. Once again, communication is key here; make sure both you and your contractor are on the same page regarding when each task needs to be completed.
Setting a Budget and Estimating Costs
As we mentioned before, one of the most important things to do before starting any home renovation is to create a budget. Whether you're doing the work yourself or hiring contractors, it's important to have an accurate estimate of how much money you'll need to complete the project.
Once you have an idea of how much money you have available to spend, start looking for ways to save money without compromising on quality. For example, rather than buying all new furniture for your renovated home, see if any friends or family members have anything they're willing/able to sell or lend to you.
Using Technology
Don't forget to take advantage of the technology available nowadays when it comes to home renovation. There are a variety of apps or software that your contractors can use to help you plan and design your renovation project. From 3D modeling software for visualizing the end result before any work is done to project management tools to help keep everyone on the same page, technology can truly enhance your renovation process. This estimating software for electricians, for instance, accurate cost estimation and a client dashboard that makes collaboration and communication with your contractor a breeze.
Getting a Home Warranty
Finally, once your renovation is complete, it's a good idea to get a home warranty. A home warranty can protect you in case something goes wrong with any of the renovation work or if any of the new appliances break down. It's important to shop around for the best home warranty available and make sure you
As long as you're prepared ahead of time by creating a budget and timeline, finding trustworthy contractors, and communicating your ideas clearly, undertaking a home renovation can be a fun and rewarding experience. Just make sure you get a home warranty once the project is completed so that any unforeseen problems down the line are covered!