Sell Your Home Faster by Staging Your Swimming Pool
Sell Your Home Faster by Staging Your Swimming Pool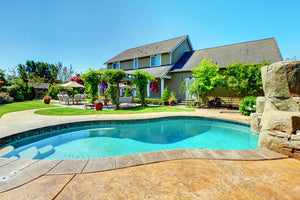 Home staging is more effective at selling houses than any other method of real estate marketing.* Staging appeals to buyers on an emotional level, allowing them to envision themselves living in a home. Staging is critical if you want top dollar for your property.
If your home has a swimming pool, don't forget to stage your pool area in addition to your indoor rooms. Some buyers look at pools as nothing but an extra expense of money and time. With the proper staging, however, your pool will become a major selling point. Here are five tips to help you stage your pool for maximum appeal.
Clear, Clean Water
The water is what any potential buyer will notice first about your pool. It's essential to make sure the pool's water is crystal clear and clean. Skim your pool often to keep the water free of dirt and debris. Consider having your pool professionally cleaned before you list your home for sale.
Whether or not you opt for professional cleaning, make sure of the following before showing your home:
The pool's chemistry is balanced.
All pool equipment is in good working order.
The bottom of the pool has been vacuumed.
The filter, basket, and skimmer are clean.
Remove Personal Items
One of the most important tasks when staging a room is depersonalization. You want potential buyers to envision themselves living there, and picture how a room will look with their belongings. The same is true when staging a pool area. Too many pool toys or other personal items will make your pool look and feel cluttered. Clear everything out of your pool area except the outdoor furniture. Give your buyers a chance to imagine themselves using the space.
Safety Features
Some families with young children do not want a pool in their backyard due to safety concerns. Other buyers may be concerned about liability. Highlighting your pool's safety features can help to give buyers peace of mind. You should absolutely install a fence around your pool if you have not already done so. In addition to a fence, here are several other safety devices you can add to your pool.
A gate alarm will sound when the gate to the pool opens.
An underwater motion alarm will sound if a child falls into the water. Underwater motion alarms need to be deactivated when you want to swim.  
A non-slip surface around the pool's edges can help to reduce slips and falls.
Rigid pool covers keep swimmers out of the pool when it's not in use. A rigid pool cover also keeps the pool warmer and cleaner.
Make sure any pool chemicals you have are securely locked away out of children's reach.
Stage Entertainment Areas
Your backyard pool isn't only for swimming. If you're showing your home during fall and winter, you can still create an attractive outdoor space that your buyers can imagine themselves using all year long. Inviting patio furniture near the pool lets your potential buyers imagine summer afternoons basking in the sun. Set up an outdoor dining area, and light a fire before showing your home if you have an outdoor fireplace. Let your buyers visualize relaxing beside the pool and entertaining friends. 
Create a Lush Landscape
A well-kept landscape makes an inviting backdrop for your pool. The landscape makes just as large an impact on potential buyers as the pool itself. Ensure your lawn is mowed and free of weeds. Trim your shrubs so they're not overgrown. Plant a few flowers, and place potted plants near your swimming pool. For the very best results, consider hiring a professional landscape designer.
A pool that's clean, safe, and surrounded by an appealing landscape is sure to attract buyers. Staging your pool will boost the curb appeal of your entire home.
 _____________________
* Source: home-staging-home-stager.com/why-home-staging-works.html