6 Ways to Bring More Natural Elements into Your Home
6 Ways to Bring More Natural Elements into Your Home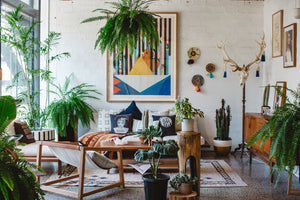 All too often, we fail to appreciate the importance of returning to our roots by spending time surrounded by nature. Our busy lives often prevent us from reaching out to Mother Nature as often as we want. So why not then bring more natural elements into your home? Adding touches of nature to your interior design is a simple and enjoyable approach to giving your house a one-of-a-kind look and feel. Natural elements have the power to make your home look twice as attractive! Now let's find out why and how you can implement them into your home.  
Why should you bring more natural elements into your home?
Every home benefits significantly from using natural components, which lend a sense of coziness, sustainability, and character to otherwise generic areas. Also, if you ever decide to sell, natural elements will go great with all staging props and help attract more interested buyers.
On top of that, biophilic home design benefits physical and emotional well-being, too. The importance of this factor may rival that of healthy eating, regular exercise, and adequate sleep. Here are some of the ways that the natural surroundings of our home affect our health:
Physical health benefits - Increasing natural light and indoor plant life are critical components of biophilic design. Sunlight is where we receive the vitamin D crucial to our health. Plants, on the other hand, release oxygen into the air, which in turn helps to purify and revitalize the air we breathe at home.
Mental health benefits - Have you ever noticed how calm and at peace you become when you're outside? The same thing happens when you bring more natural elements into your home. Your stress levels will decrease, and you will notice an uptick in your ability to think creatively and clearly.
How to bring more natural elements into your home?
The COVID-19 pandemic taught us, among other things, the value of getting out into nature. Many individuals miss the outdoors after being cooped up at home for an extended time. But what if we told you, you can still enjoy nature in your home even if you don't have a garden? Not only that it's possible, but it's also pretty easy. All you need to do is follow the tips we've gathered from experts.
#1 Add fresh flowers and house plants
Flowers are the ultimate symbol of the outdoors. Flowers in vases on mantles and coffee tables add a splash of color and liveliness to any space. They give an instant mood lift. Flowers are a great way to add life and color to your home that you won't find in the standard furnishings and decorations.
Don't forget about different house plants. Besides looking good, they'll help you maintain a healthy environment by purifying the air you breathe. Plants also come with plenty of health benefits. Take aloe vera as an example. 
#2 Bring the natural light in
Make good use of the natural light provided by large windows, such as French or sliding glass doors. By positioning furniture so that it faces windows, you may quickly increase the amount of natural brightness in your home.
To maximize the benefits of available natural light, you can also paint the walls in light colors and use materials that reflect the light in your decor. This is especially useful in cramped and small living areas since it creates the impression of more space. 
#3 Incorporate wood throughout your home
Another great way to bring more natural elements into your home is to incorporate wooden furniture. It is not only aesthetically pleasing and high-class but also extremely long-lasting. In addition, there is a wide variety of options for furnishings to complement any interior design scheme.
The best part is that wooden furniture never goes out of style, so even if you don't like a piece now, storing wooden furniture is a simple and easy solution because it leaves you with the option of bringing the item back to your home whenever you like. However, when storing wooden furniture, do your homework and find ways to protect it from damage. 
If you're not a fan of wooden furniture, you can always go for hardwood floors as a way to bring this element into your home. In addition to being long-lasting and high-quality, hardwood flooring provides a substantial return on investment should you ever decide to sell your home.
#4 Add a water feature
Bringing the soothing sounds of water into your house can further heighten the sense of peace and tranquility. A waterfall wall is one option. Install it in hallways to create a seamless transition from outside to inside. Another fantastic idea for indoor water is to install a tiny water fountain. Using stone instead of wood will give it a more rustic appearance and feel.
#5 Add exposed brick or stone wall
Using bricks in construction dates back millennia and shows no signs of slowing down. It's no surprise, considering how great brick walls look in nearly every setting. Brick is a more earthy option if you're trying to stay true to the style. Conversely, you can give it a more contemporary look by painting it a color of your choosing.
Putting up an accent stone wall is a great way to make a feature out of a wall and draw the eye to a specific area of your home. Seeing as how stones can be uncovered in wooded areas or near running water, this is a fantastic method of bringing the outdoors inside.
#6 Grow an herb garden
Imagine always having fresh, locally grown ingredients for your favorite dishes right at your fingertips; no serious cook could possibly pass up this opportunity. Therefore, grow herbs and spices in your kitchen to improve your cooking skills while infusing your home with the fresh aromas of nature. If you have enough space, you can even go a step further and grow some fruits or vegetables. 
Stay connected to nature
We hope this article inspires you to bring more natural elements into your home. Remember, your home will look good, and your mental and physical health will benefit. And if you ever decide to sell, natural elements will only help you sell your home faster. Incorporate extra staging props, and buyers will quickly start swarming around your property.