Expert Home Staging Tips for Spring
Expert Home Staging Tips for Spring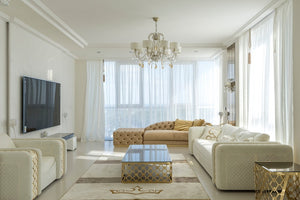 A lot goes into successfully selling a house. The real estate world can be difficult to navigate, which is why it requires so much effort and planning. You have to choose a really good realtor who will help you set an appropriate price, as often, when people set the price on their own, they miss the mark. Then you have to consider making some value-raising upgrades in your home because you want to get as much money as possible from this sale. And when you are done with that, there is still one more incredibly important element—the open house. The open house is the opportunity to present your house in the best light possible, which cannot be done without home staging. And since the news season has finally arrived, we have decided to give you some home staging tips for spring.
A cleaning session
Before you do anything else, it is incredibly important that your house is completely clean. It doesn't matter if you are staging your home in spring or any other season; cleaning is a must. Nothing will look worse on open house day than a messy, dirty house. This is something you can take care of while you are planning your relocation. Make a move-out cleaning checklist—that way, you will be able to cover all the areas of the home and make sure it's spotless. When you have a list, you are less likely to miss anything important. Go room by room and make sure you get into every corner and nook of the house. If, however, you find this too challenging, you can always hire pro cleaners to do it for you. In this case, you should always look at the reviews online before deciding on a cleaning company.
Let there be light
The great thing about staging your home in the spring months is that the weather will work in your favor. Your home will look incredible with the natural light shining upon it. So, when staging your home in the spring, it is important to use it to your advantage. Fill your home with sunlight as much as you can. When preparing your home for an open house, make sure to leave the drapes open so the sun can come in and work its magic. The trend of having natural elements in a home has been very popular in the last few years, so there is a high probability that people who come to check out your home on open house day will love this.
Use bright colors
Spring is all about light, openness, and freshness. This should reflect in the way you stage your home. That is why you should focus on a bright color palette. Avoid any dark, murky colors. A bright, fresh color palette will work best here. It makes the spaces look more open, and that goes great with the spring vibe. If your walls are already painted in a light color like white or soft pink, you don't need to change anything. Here you can only refresh the color a little if it's chipped somewhere. When staging the bedroom, get some brightly colored linens and throw pillows. You can choose some fun patterns as well. All of this just lifts the mood and is immediately noticeable when you walk into a house, and that is exactly what you want on open house day.
Home staging tips for spring—Outside is just as important as the inside
When people talk about home staging, they often forget to mention how to prepare the outside of your home. Well, in spring, this is absolutely unacceptable. If you are trying to sell your home in the spring months, you have the incredible opportunity to make your yard one of the most appealing parts of your home. Spring weather makes everything look more beautiful, including your yard. The greenery and flowers are waking up after the winter, and you need to spruce them up a bit. This means decluttering the garage and getting rid of the junk lying around in your yard. You will also need to do some lawn mowing. Get some new pots for your plants, replace the broken ones, trim the hedges, etc. But if garden work is not your forte, you can always hire a landscaper to help you out.
Add some spring-inspired details
After you are done with everything else, all that's left to do is add some nice details. Spring is all about flowers, so make sure you have fresh, fragrant flowers in vases all over your home. Some traditional spring flowers are:
Daffodils
Tulips
Snowdrops
Camellias
You can also make some spring-inspired table centerpieces and find inspiration for them online. Add some nice candles as well. This works beautifully with the open drapes and natural light inside and truly creates spring in your home.
Ask the pros for help
And the last of the home staging tips for spring is to ask for help. Some people are just not naturally good at décor and home staging. There is nothing wrong with that, but when you are trying to sell a home in a real estate market that's this competitive, you simply can't risk it. In that case, it's always best to hire pro stagers to take care of that. Find some with good reviews and a lot of experience. It might seem pricey, but it will definitely pay off in the long run.
In conclusion
These were some simple home staging tips for spring. As you can see, it's all about using the spring weather to your advantage. Sunshine is always the best light for your home and can really set the right mood for a successful open house tour. Stick to a bright color palette and decorate your home according to that. Also, don't forget to spruce up your yard, as it can be your best asset. And very importantly, don't forget to clean everything before you start properly!
Meta Description: If you are thinking of selling your home in the coming months, you should learn these useful and simple home staging tips for spring!