Home Staging Myths You Shouldn't Believe
Home Staging Myths You Shouldn't Believe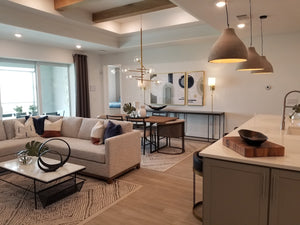 When we talk about successfully selling a home, one step we can't skip is staging. This step is essential because home staging makes your home attractive to buyers on open house day. And staged homes are statistically much more likely to sell. Home staging accentuates your home's strengths and draws attention away from the flaws. However, if you have no experience with this, it can be a little confusing. There is a lot of information about home staging floating around, which is simply not true. For someone selling a house for the first time, it can be hard to figure out what is true and what is not. We found this topic interesting and decided to tell you about some home staging myths you shouldn't believe.
What are some home staging myths you shouldn't believe?
You don't need staging
You can do it on your own
You will need to move
It's too expensive
It's the same as decorating
You don't need home staging
If you have read articles about cutting costs when selling a house, you might have noticed that many advise you to skip home staging. According to those articles hiring home staging pros is just a useless expense. Unfortunately, a lot of people started to believe this. But this is entirely false information. And it can be very detrimental to your chances of selling. As we said previously, according to statistics, staged homes are more likely to sell. It shows that you put effort into making your home look good. And you can see the benefits of home staging on open house day. You will immediately notice on people's faces that they are impressed by how your home looks. Even if you have a great home, it will drive buyers away if it looks messy and uncared for.
You can do it without professional help
Another one of the home staging myths you shouldn't believe is that you can do it on your own. While working on needing less professional help with certain tasks is admirable, home staging is where you shouldn't attempt that. You can do some things on your own, like cleaning or decluttering, but home staging is a skill that takes a lot of time to learn. Professionals know y what to do to make your home look incredible. They know the tricks to make your house look more spacious and open. And not just that, they know how to subtly hide any imperfections in your house. This kind of help when trying to sell is priceless, as a nicely staged home leaves a great first impression. That's why you shouldn't risk and try to do it yourself. It will cost you a lot of time and effort.
You need to move if you want to stage your home
Many people believe you first need to move out to stage your home. That's why many people look up tips on how to pack and move in less than ten days. Pro movers can help you do this on short notice, but there is no need to be this stressed about this. You can move if you want to, but if you prefer staying in your home until you finally sell it, that's ok too. You will just need to learn to adapt. Once the pros stage your home, you must change some habits and be a little more careful, like with eating. It would be much better if you could stick to eating out or ordering delivery while your home staged. And you will need to avoid cluttering. That is a lot easier if you don't have little kids in your home, but it is still doable.
Home staging is too expensive and not worth it
In recent years people have become convinced that hiring pro stagers is extremely expensive and only rich people can do it. However, this is not true- Yes, those costly home stagers are entirely normal and necessary. Because they are hired by wealthy people who need their villas, and expensive penthouses staged. But they are not the only ones out there. There is plenty of affordable options to choose from. A person of average income can find excellent home stagers that won't overwhelm your budget. And just because they are cheaper doesn't mean they are inexperienced or bad at their jobs. But the best part is the return on investment. The money you invest into hiring well-experienced movers will be some of the best spent money in your life. A nicely staged home attracts buyers and raises your chances of selling quickly.
Home staging = Decorating
There is a misconception that home staging is decorating so homeowners can do it themselves. But those two things are entirely different. When you attempt to decorate your home to make it look good for buyers, you will essentially decorate it the way you would like a house to look. But this is an entirely wrong approach. What you like may not be what everyone else wants, especially if you have an eccentric style.
On the other hand, home stagers will try to make your home appealing to everyone as much as possible. Removing personal belongings is also a good idea. The key is to make your home look good on open house day but still look like a blank canvas. A buyer needs to envision himself living there and redecorating in the future.
In conclusion
There are many home staging myths you shouldn't believe. Hopefully, our article has made it easier for you to recognize which ones are true and which are not. Good luck with selling your home!!
Meta Description: To sell your home fast and stress-free, you must first learn about these home staging myths you shouldn't believe.