Home Seller Cheat Sheet for House Showings
Home Seller Cheat Sheet for House Showings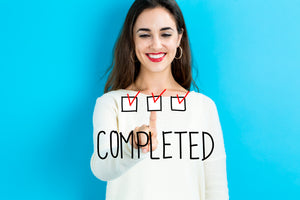 When your realtor wants to show your home to a potential buyer in an hour or so, do you panic? Keep reading for 10 check-off items to get your home ready for the next showing. Keeping your house in order and clean on a daily basis can reduce the amount of work necessary from each of the 10 cheat-sheet items listed below.
(1) Vacuum the Floors
It's important to give the floors a quick vacuum immediately before a potential buyer comes to tour your home. Run the vacuum back and forth in straight lines to make pile carpet look newer and fluffier. Avoid stepping on the carpet after you've finished vacuuming to keep it looking fresh. In addition, fluff up area and scatter rugs with a quick vacuum. Run the dust mop or vacuum over hard-surface floors to collect visible lint or dirt.
(2) Stash Pet-Related Items
Sometimes it's an absolute deal-breaker if a buyer sees pet stuff lying around. So, put away your pet bowls, toys, cages, food, and treats inside a cabinet or storage tub where they're not visible.
(3) Clean the Sinks
 Giving your kitchen and bathroom sinks a quick cleaning before your next house showing is imperative. Wipe the sinks and countertops down with a disposable disinfectant wipe to make them look good and smell clean.
(4) Put Away Stuff
If you keep things picked up and put away daily, this should be a very quick item to check off your list. Pick up miscellaneous items, such as newspapers, magazines, shoes, or personal items that are lying around and put them away. If you have dirty dishes in the sink, stash them in the dishwasher and quickly put away your toiletries in the bathroom.
(5) Create a Light-Filled Space
Be sure to quickly turn on your lamps and overhead lights before a potential buyer tours your home. If it's dark outside, switch on all your outdoor lights as well. Also, open your curtains and blinds to let natural sunlight stream inside. Buyers are attracted to light-filled, cheery spaces, so create one for them.
(6) Make the Beds
Unmade beds are not attractive, especially to a potential buyer. It conveys the possibility that if you don't take care of your bed, you probably don't take care of anything else in the house. If you get in the habit of making your bed every morning, you can check this item off your list.
(7) Lock Specialty Cabinets
Keep your specialty cabinets locked at all times and you won't need to remember to lock them before your realtor brings a possible buyer to view your home. Make sure lockable cabinets, such as file and gun cabinets, lockboxes, and home safes are securely locked.
(8) Light a Scented Candle
Before you start checking off the items on this cheat sheet, you might want to light a scented candle to fill your living or kitchen area with a sweet aroma. The pleasant scent will permeate the air while you're preparing your home for a buyer tour. For safety reasons, be sure to blow out the candle before you leave your house. If you leave the candle on the counter, its aroma will continue to fill the air even after the flame is extinguished.
(9) Hang Fresh Towels
Used towels that are hanging up in your bathrooms can smell musty and convey a less-than-stellar appearance. So, replace all your damp bath and hand towels with fresh, dry replacements in your bathrooms before your next house showing. Don't forget to also exchange used kitchen towels and dishcloths for clean substitutes.
(10) Exit Your House
It's typically recommended by realtors that you leave your home when a potential buyer comes to look. So, put the kids and pets inside your car and take a drive, get a burger, or go to the park. A buyer wants to concentrate on looking at your home without distractions, so go out for a while and let them focus on your home and what it has to offer.
Now that you've got your home seller cheat sheet, put it into practice before your realtor brings another buyer inside your home. The 10 check-off items you just read about will help you to properly prepare your home before a buyer steps inside. Even though it requires a bit of work, your home must look its best if you want to stand out among the similar houses  a buyer might be viewing.