Throw Away That Real Estate Brochure Box
Throw Away That Real Estate Brochure Box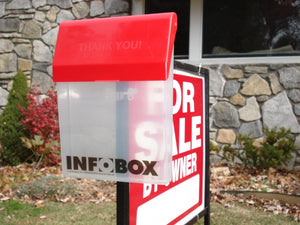 Driving around and checking out homes for sale signs, often you'll see a sign rider.  That's the small sign over the big one that has a website address or phone number.  On other homes, you'll also see a brochure box.  The listing real estate agent has full-color brochures printed up with a great many interior photos and descriptive text.
One thing experienced real estate agents will tell you is that the first week or so the home is listed with a brochure box, check it frequently.  That's because the neighbors are curious, especially the ones who weren't friends with the sellers and haven't seen the home's interior.  They want to see that and the list price of the home.  They empty a brochure box in a hurry, often twice in the first week or so.
Another drawback of brochure boxes is that they are out in the weather in most cases.  This discourages drive-ups from getting out in the rain to grab a brochure.  With often long periods of empty boxes and inclement weather, is there another way to get the marketing job done?
Services have cropped up that allow a business to set up a text number and message code number to disseminate information via text message.  It's something like "Text 123456 to 56789," or similar.  Real estate agents can use these services to create online brochures with more images and greater marketing clout than a simple printed brochure.
Visualize the listing ID number texted into the receiving text address, with an automatic text message reply linking to the online listing brochure.  The drive-up visitor doesn't have to leave the comfort of their car to get a much more detailed brochure about the home; it's never empty either.
Once the drive-by home shoppers leave, they're taking that text message home, and they can look at it later as much as they want, often generating a request for a showing.  All this is great and not terribly expensive, but there is more as well.
Though you could have ten-page brochures, it would be very expensive and not too many would fit in a typical brochure box.  With the online approach, you can have as much information as you want, even having subdivision covenants and other documents available.
Better than that, offer those more lengthy documents with a link to a quick form to provide their email address to receive them automatically via email.  When they do that, you've just generated a lead from an anonymous prospect.  They've seen the online brochure, so asking for more info or documents indicates more interest.
That delivery text could also offer a link to a form to set a showing appointment.  In today's world, people are in a hurry and expect instant gratification from technology  Using the texting delivery method and these strategies, you can increase your leads, sales, and customer satisfaction.  And, you're doing it without lifting a finger once it's set up.
Shop the text message companies and find one that works with real estate professionals.  You just may find that you can throw away those brochure boxes forever.