How Real Estate Photos Sell Your Home Fast
How Real Estate Photos Sell Your Home Fast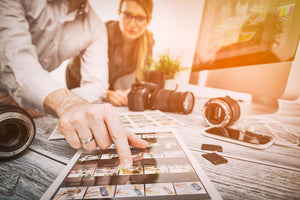 Your home may be in great shape, but you need the pictures to prove it and drive traffic to real estate showings. Learn why it's highly important that you take great photos when you are trying to sell a home.  
How Photos Drive Home Sales
Homebuyers browse online, which means the first impression of your home for most individuals comes from a digital listing. A small fraction of potential buyers might see your home in an advertisement, such as one posted in the window of a real estate agency, and another portion might be familiar with your house because they live in your neighborhood. Since most people will see an image of your home before visiting, that image has to stand out. 
Even if your home hits all the specs on a buyer's wishlist, if the house doesn't photograph well, a buyer will discard it. Bad photos make a house for sale look ugly at best and like a fixer-upper project at worst. 
Even if the rare instance when a potential buyer looks past a bad first impression to attend an open house, chances are they've already formed the opinion that your house needs a lot of work. They could make a lowball offer because they might not be willing to pay the asking price.
How to Take Better Photos for Real Estate Listings 
Now that you understand the importance of great real estate photos, how do you make sure yours succeed? 
To ace the photos, you've got to back up and prepare your home so that it will photograph well. Bring in a house cleaner or spend the weekend cleaning and decluttering your home. If your house is already empty because you've moved, it can make sense to rent a few pieces of furniture for a home staging. Buyers have a difficult time gauging the appeal of empty rooms, so an empty house is less likely to stand out than one that is furnished. 
Once your house is clean, open the shades to allow natural light in. If possible, wait for a sunny day to take photos, because the interior can look dark on cloudy days. Colors will be brightest when the sun is behind the camera. 
Use a wide-angle lens if possible, because that allows for wider shots that make the room look spacious. Always shoot to show the best qualities of the room; think carefully about where you are standing and where the light falls. If you don't take this into account, you risk creating large shadow areas in your photos, where buyers won't be able to tell what's going on. Pay attention to straight lines; you'll want to make furniture and walls appear straight vertically and horizontally rather than tilted. 
Mix it up between wide photos that show the contours of the room and close-ups on key details, such as bathroom fixtures. 
A photo can be fixed using editing software, but it's much simpler if you follow a few real estate photography tips to get better photos from the start. 
If this sounds like a lot of work, take heart from the fact that homes with great photos sell 32 percent faster than homes with bad or average photos. The work you put it to clean, stage, and photograph your home means less time waiting for an offer-and better odds of meeting or exceeding your asking price.