How to Make Bedrooms Look Bigger
How to Make Bedrooms Look Bigger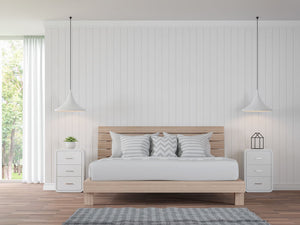 It's hard to deny the appeal of large spaces. However, when reality meets the pocketbook, sometimes you have to manage with limited space. When you find yourself living with small bedrooms, shift your focus to their potential. With a bit of ingenuity, a small bedroom can still look stylish, spacious and meet individual requirements.
Implement Creative Storage Solutions
Did you know that clutter can create the illusion of less space? That's why it's important to implement the best storage options. You can consult a closet company and have the salesperson design a space organization solution for you. If you don't want to have a new closet or rent your space, you can use accessories that double as storage vessels. These options include under-bed storage containers and headboard bookcases. Stylish baskets keep daily clutter at bay and make clean-up a breeze.
Use the Right Type of Furniture 
Bigger furnishings obviously take up more space and make a room smaller. That's why you should opt for slighter pieces, and keep them to a minimum. However, even the style impacts the ambiance of a room. Opt for pieces with slim legs to create the illusion of more space. Additionally, it helps to use furniture that doubles as storage pieces, such as nightstands with drawers and ottomans with storing capabilities.
Add Mirrors
When used correctly, mirrors can fool the eye. To create the illusion of more square footage, add a mirror on a back wall, as far away from the door as possible. For an impression of more height, place a vertical mirror on the wall. This design element also adds function because you can use it when getting dressed.
Use Correct Lighting
Most ceiling fixtures direct light downwards, towards the floor. Combine this factor with low ceilings, and it can generate a cramped feeling. While light doesn't add more room, it can create a spatial illusion. To open up the vertical space, use fittings that send light upwards. Wall sconces and floor lamps with the proper bulbs can achieve this effect.
Stay Away from Dark Wall Colors
Lighter colors form the illusion of wider space. You might not see your wall colors when asleep, but you will still spend enough time in your bedroom during daylight hours. That's why it's important to use lighter neutral wall paint. If you have your mind set on shades like mystic dark plum or sophisticated navy, reserve darker shades for accents only. You can use them as trim colors or add accessories in those colors. If you must have darker hues on the walls, limit them to accent walls.
Any or all of these five tips can make your life easier so that you can create the spacious feeling you desire. While they work nicely for bedrooms, you can use these design ideas around the house as well. The functional style you create will go a long way towards serenity in your living space.