How to Stage Your Home During the Holidays
How to Stage Your Home During the Holidays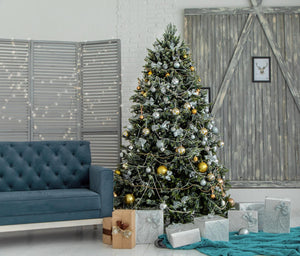 The real estate business slows down during the holiday season. Many sellers, buyers, and even real estate agents go on vacation or want to spend quality time with their families. But this doesn't mean you can't sell your home during this period. After all, some buyers never stop searching for that perfect home. So, you should make sure that your property looks its best at all times. One way to do that is by staging your home to sell. As any realtor will tell you, this is essential all year round, but it's different during the holiday season. So, here are some tips on how to stage your home during the holidays.
No. 1 One of the best tips on how to stage your home during the holidays is to focus on curb appeal
As you probably know, first impressions count a lot. And the first thing homebuyers see is your home's exterior. That's why you should always find ways to improve your home's curb appeal. Of course, during winter, you don't have too many options. But you can still do a few things, particularly during the holidays.
Firstly, you should always shovel the snow off the driveway and make a clear path to the house. Secondly, you can decorate the porch with Christmas lights to make your home look more inviting. Just be careful not to overdo it. Too many lights will distract buyers, and they won't notice the beautiful architectural features underneath. Thirdly, you should choose a simple and elegant wreath for your front door.
No. 2 Warm up the place
One of the best tips for staging your home during the holidays is to ensure it's warm and cozy. There's no better feeling than stepping into a warm house in a freezing winter. So, if you've already moved out, you should turn on the heat before viewings. If you're home also has a fireplace, you should light it up to enhance the warm and welcoming atmosphere.
No. 3 Clean up the place
The most important part of staging a home is making sure that it's clean. That entails thorough cleaning but also dusting and vacuuming before every viewing. That will immediately spruce up your home. Moreover, you should also declutter the place. If a room is overcrowded with stuff, it will look smaller and very distracting for buyers.
No. 4 Make it look festive
When staging a home, you should keep the décor simple. Too many decorations will distract the buyers and make the space seem cluttered. But this doesn't mean you can't make it look festive for the holidays. Just don't go overboard.
For instance, you can decorate your living room with a few Christmas lights and a tree. That's more than enough. And if you're staging a house while living in it, make sure you hide the family holiday cards and decorations. It's important to depersonalize your home to make it easier for buyers to imagine themselves living there.
No. 5 Hide the gifts
Many like placing their Christmas gifts underneath the tree a few weeks before Christmas. But this is a big no-no when it comes to staging your home during the holidays. On the one hand, this defeats the purpose of home depersonalization. On the other hand, those gifts will take up floor space and make the room appear smaller.
No. 6 Choose the right color palette
Generally, when staging a home, you should stick to neutral colors. That is the safest choice because your tastes might not match the buyers'. And the same goes for Christmas decorations. If you've already chosen a color palette for your living room, make sure the decorations complement it. So, try to avoid multicolor Christmas decorations and lights.
No. 7 Highlight key features
Christmas decorations can help you stage your home during the holidays and highlight key features of your home. However, to do this, you have to place them strategically. For instance, you can place simple string lighting on the windowsill to draw attention to a large window with a stunning view. Or you can hang mistletoe to highlight a beautiful archway.
No. 8 Make it smell nice
You should also focus on the smell to make your home more inviting. For example, during the holidays, there's nothing more welcoming than the smell of freshly baked ginger cookies. However, you should also be careful not to overwhelm buyers' senses. That's why it's best to limit the use of scented candles and other home fragrance products. Moreover, some buyers might even be allergic to them.
No. 9 Remove the decorations when it's time
While making your home look festive during the holidays is nice, you should remove the Christmas decorations once the holidays are over. After all, less is more when it comes to staging. Buyers need to see all the beautiful features that your property has to offer. And the Christmas tree in the middle of January will distract them. Remember that these items are fragile, so you should learn how to store Christmas decorations to keep them protected at all times.
No. 10 Consult with professionals
Consult professionals to ensure you stage your home right during the holidays. If you have the budget, you can hire professional stagers to do it for you. These experts know all the tricks to make a property appealing to buyers. However, if money is tight, you should consult your real estate agent before transforming your home into Santa's village.
Final thoughts
Everyone enjoys the holidays and all those Christmas lights and decorations. So, it's nice to make your home look festive for buyers during this time. But be careful not to overdo it. Too many decorations will distract the buyers. And they won't be able to see all the beautiful elements that your home has to offer. So, to ensure you do it right, use these tips to stage your home during the holidays and ask for help if needed.