Simple Tips for Designing a Stunning Feminine Home
Simple Tips for Designing a Stunning Feminine Home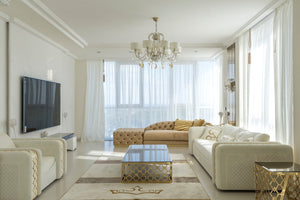 Decorating your house in a feminine style will make it look much more lively, bright, and gentle. Living in these surroundings can positively affect your mental health and put you in a better mood instantly. In addition, making your home more ladylike is not a difficult task. It would be best if you invite your friends and family to keep you company and beautify your house with you. We have also done our share of helping: here is a list of a few simple tips for designing a stunning feminine home. We hope you find it helpful, and make sure to have fun!
Color of the walls and wallpapers
The thing that mainly affects the ambiance of a room is the walls. Soft, elegant colors such as pink, white, or light violet should be your choice. If you decide to paint them white, colorful furniture could add a nice contrast. Buy more minimalistic furniture if your walls have color. Therefore, the room looks softer and not too bright.
Decorative wallpapers are a good choice as well. It will add color and life to your home. It can make it look vintage, depending on which ones you choose. You can find a lot of beautiful prints with shapes and flowers, so it's on you to decide which one you like the best.
Flowers and floral arrangements
One way to make your home more feminine and gentle is by adding flowers. No matter your budget, you'll be able to afford them since they're not expensive. Go to your nearest local green market, find all sorts of flowers in different colors, and have fun making floral arrangements with your friends. Bringing natural elements into your home, like flowers or any other plant, will give your house a feeling of warmth and natural beauty. You can put floral arrangements on tables, shelves, and in your bedroom to make your home feel livelier.
Caption: Scented candles in different shapes and sizes are an incredible decoration for your home.
Scented candles
Scented candles in different shapes, and sizes, are an incredible decoration for your home. No matter where you put them, on coffee tables, shelves, or even night tables, they won't look out of place. Scented candles won't only look good on your furniture as decoration but will make your home smell amazing. With different scents, which vary from floral to woodsy, you can create a pleasant ambiance in the house, which will help you relax if you've had a busy, tiring day. Scented candles also look elegant, meaning they're a must-have for designing a stunning feminine home.
Caption: Velvet chairs and velvet sofas are a perfect match.
Chic furniture
The style of your furniture will considerably affect the design of the house. When designing a stunning feminine home, look for more sophisticated fittings with a softer color. The furniture you can't go wrong with is sofas, glass coffee tables, and velvet chairs. Sofas are the type of couch that make every room twice as chic. It doesn't matter if you buy bigger or smaller sofas, you will make a mistake. Velvet chairs and velvet sofas are a perfect match.
Because of the delicacy of the furniture fabric, you should be extra careful not to damage it. Velvet is hard to clean, so be cautious of that. In case you're, for example, moving to another house, make sure the fabric is not damaged while transporting. If you are in the process of moving and relocating more fragile furniture, such as a vanity, ensure you hire somebody for the relocation who will take good care of it. Like this, your furniture will stay undamaged and elegant as ever.
Caption: If you are designing a stunning, feminine home, paintings are a must-have.
Mirrors, pictures, and paintings
Don't leave your walls empty. A good solution for that is a large fashionable mirror. It can be quite expensive, but it will make your home look twice as attractive. Huge mirrors bring light into the room and make it seem much bigger than it is. Instead of buying a simple mirror, buy one with a chic frame since the frame is what makes the mirror beautiful and complete.
If you decide not to go with a mirror, there is always another option. Putting pictures of your loved ones on the walls is an incredible decoration. Pay attention that the color of the picture frame matches the colors you have in the room. If not pictures, pastel paintings will look gorgeous as well.
Designing a stunning feminine home: Glass figurines
Glass figurines are wonderful ornaments that will look beautiful everywhere: tables or drawers. They can fill empty spots on the shelves - so they don't look empty. Figurines come in different shapes, sizes, and colors. You can search for them online or in your local stores and decide what color and shape will go with your room the best. Nevertheless, they are very feminine and elegant decorations.
Even though glass figurines are beautiful - they are fragile as well. According to professionals at golansmoving.com, it would be best to wait and hire someone professional to relocate your belongings for you. We also suggest putting them somewhere in your home where you won't unintentionally knock them down or where your kids or pets wouldn't find them and eventually break them.
Artificial plants
If you are struggling with how to design the entrance of your house and how to fill the space and not make it look empty – we have a solution! Since real plants need constant devotion and time, and if you, as a busy person, just don't have enough patience for that, buy artificial plants. They look as good as real ones, and all you have to do is clean them thoroughly on occasion. Artificial trees can be quite large, so they are perfect for filling empty spots in your house: entrance, the corners of the living room, halls, or places in your bedroom.
Final words
Designing a stunning feminine home should be a fun experience for you and your friends. Use gentle colors and decorations such as flowers, mirrors, figurines, and much more to get the desired finishing look. We hope our ideas are helpful, but be creative, as well! Come up with your ideas, and have fun while doing so!
Meta description: Here are a few simple tips for designing a stunning feminine home. Call your friends for help, be creative and have fun.